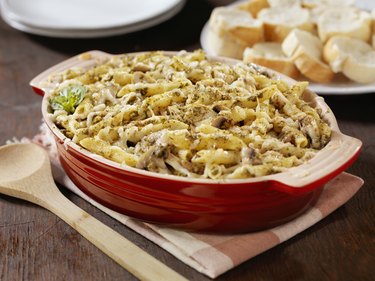 When it comes to actually cooking a meal at home, busy schedules make it seem like there's not enough time in the day. And then there's the clean-up and dishes that need to be washed.
Sometimes, when you take all of this into consideration, it feels like it's worth the extra expense of ordering out or grabbing something already prepared.
But the truth is, cooking at home not only saves you money, but in most cases, it's better for your health. A July 2014 study published in Public Health Nutrition found that eating out at fast-food and full-service restaurants is associated with taking in more calories and poorer diet choices. The researchers found that dining out led to eating an additional 800 calories per day and consuming more sugar, saturated fat and sodium.
When you cook at home, you have control over the ingredients you add (and those you don't), along with the portions served. Doing this day in and day out can make a huge difference in your health.
All you have to do is cook — and when it comes to washing dishes, we've got you covered. To help ease the burden of cooking and the clean-up that follows, we've put together five delicious and healthy dinners that require just one pot or one pan.
1. One-Pot Penne With Cauliflower and White Beans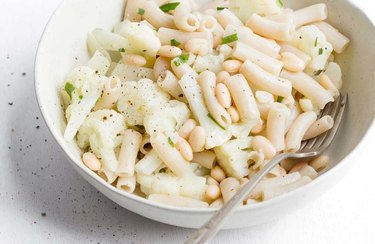 We're told to eat the colors of the rainbow but don't forget about all of the healthy white foods! They're often overlooked because they aren't vibrant green or a deep purple, but they are still nutritious.
This bowl of healthy white foods — beans, cauliflower and even pasta — has 5 grams of fiber and 8 grams of protein per serving. Cauliflower is loaded with vitamin C as well as vitamin K, which helps to build strong bones. Also, it takes just 20 minutes from start to finish.
If you're following a gluten-free diet, rest assured that this dish is GF thanks to brown rice pasta.
2. Vegan 3-Bean Beer Chili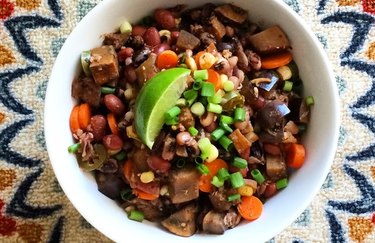 One big pot is all you need to make this vegan chili that combines black-eyed peas, chili beans, Calypso beans, baby eggplant, Portobello mushrooms, carrots and, yes, beer.
One serving is just 172 calories but provides 15 grams of fiber. That's about as much fiber as we eat on average each day, which is far from what we actually need, according to a September 2014 USDA report.
Our intake should be about 25 to 38 grams per day for women and men, respectively. Unfortunately, only 10 percent of us get enough on a daily basis, as outlined in a January 2017 paper published in the American Journal of Lifestyle Medicine. One bowl of this chili will have you well on your way to meeting your daily needs.
3. Kale Bacon White Bean Soup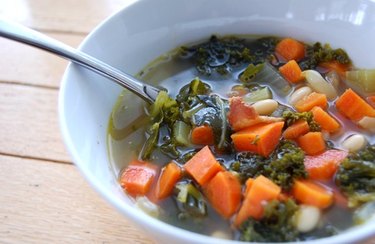 This recipe calls for bacon, but each serving is only about a half-slice, which keeps the saturated fat intake low.
In fact, a cup of the soup has just one gram of saturated fat but delivers on healthier nutrients like fiber (5 grams) and protein (9 grams), and the sodium is low, providing just 15 percent of your daily value.
The nutritional standouts in this soup are kale and cannellini beans. The beans give this soup staying power because they're a plant-based source of protein, accompanied by a healthy dose of fiber. Kale adds bulk to the soup and is rich in bone-strengthening vitamin K, as well as vitamin C.
4. Broiled Heirloom Tomato and Rosemary Frittata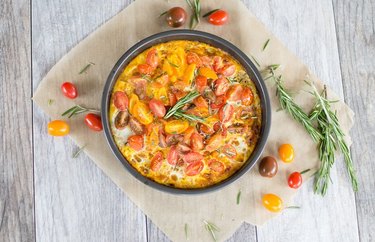 Breakfast for dinner — you'd be hard-pressed to find anything more comforting. This recipe sounds more gourmet than it is, we promise. It's also dairy- and meat-free, making it ideal for vegetarians or anyone with lactose intolerance.
This dish is made with olive oil, tomatoes, eggs, rosemary and onions — that's it — and each of these healthy ingredients carries its own nutritional weight.
Olive oil is a staple in the Mediterranean diet, and is heralded for its monounsaturated fatty acid profile.
Tomatoes are rich in lycopene, a phytonutrient that's linked to a lower risk of stroke, according to Harvard Health Publishing.
Whole eggs deliver on protein, as well as vitamin B12, choline and riboflavin.
Rosemary is more than a garnish. Early research shows it may have anti-inflammatory benefits, according to a March 2016 review published in Nutrition Today.
Onions contain an antioxidant called quercetin. This phytonutrient helps slow aging in the body by fighting free radicals, and it's been shown to lower LDL cholesterol levels, according to the National Onion Association. You can also find quercetin in apples and tea but research shows the antioxidant is absorbed twice as much in onions compared to tea and three times as much compared to apples.

5. Creamy Tequila Lime Chicken, Pepper and 'Fettuccine' Skillet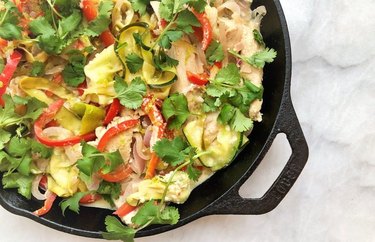 All of the ingredients in this dish are thrown into a cast-iron skillet and cooked on the stove. It's kept low-carb by swapping out regular fettucini noodles and cutting zucchini into fettuccini-like noodles instead.
Each serving has just 10 net carbs (13 total carbs, minus 3 grams of fiber). It's higher in fat, specifically saturated fat, because it calls for heavy cream, hence the "creamy" in the title. Because of this, try to balance this meal with the rest of the meals and snacks you eat throughout the course of the day.