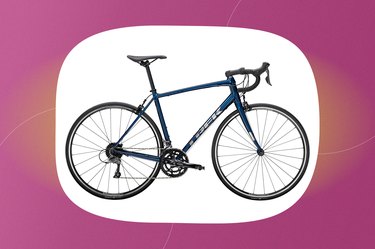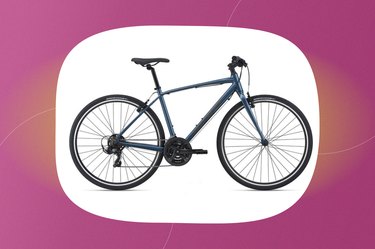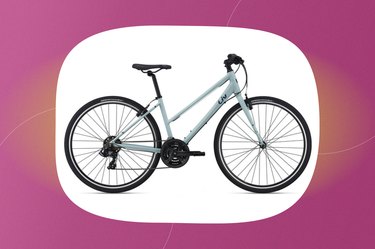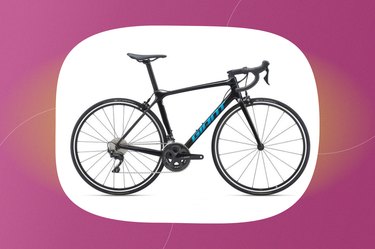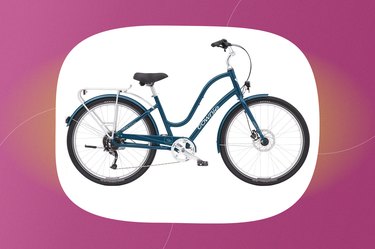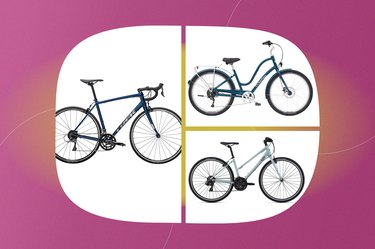 Finding the best bicycle is all about understanding your unique body and needs — and as the decades progress, things change.
No, getting older doesn't mean you have to slow down! But, after 50 or 60, you probably care more about your bike seat's comfort than you did when you were sporting training wheels. And, if you have any mobility issues, a nice and light step-through frame can make regular rides infinitely more accessible and safe.
Learn about what makes the best bicycles for over 60, and check out these five expert-approved picks.
We spoke with cycling coaches and a certified kinesiologist about what makes the best bike for a 60-year-old man or woman (and beyond). With their guidance, we made these later-in-life-friendly picks based on criteria, including:
Bike weight
Frame shape
Seat size
1. Best Intro Bike: Trek Domane AL 2 Road Bike
Trek's Domane bike is one of the best bikes for seniors looking to start a new hobby. It's totally customizable for different heights and limb lengths. So, if you have longer legs or arms than the company's original standards, no worries. You can still find a fit that keeps your body comfortable and aligned.
This bike also boasts a high-quality aluminum and alloy frame. According to Rick Schultz, a USA cycling professional coach, these materials are incredibly durable and secure.
2. Best Lightweight Bike: Giant Escape 3
The best bikes for older adults are light. Why? Because they are easier to maneuver, lock up, lift and even carry, explains certified kinesiologist Jacob Harcoff, CSCS. This bike just so happens to be made of an extremely lightweight (but still durable) metal alloy.
This inexpensive model also has a wide range of gears, making it easy to drive up and down hills with control and stability.
3. Best Bike for Women: LIV Alight 3
LIV is one of the only brands that designs bikes with female cyclists in mind, making this one of the best bikes for 60-year-old women, according to Schultz.
One feature you'll love: A short distance between the handlebars and seat that tends to feel more comfortable for women — or anyone with shorter arms.
4. Best for Speed: Giant TCR Advanced 2 Pro Compact
The more compact you can be on your bike, the faster you'll go, Schultz says. That's why this smaller, aerodynamic option is the best bicycle for 60-year-old men or women who have a need for speed. (Maybe you're into quick commutes or races!)
Fortunately, the bike gets moving without sacrificing comfort.
5. Best Cruiser: Electra Townie Path 9D EQ Step-Thru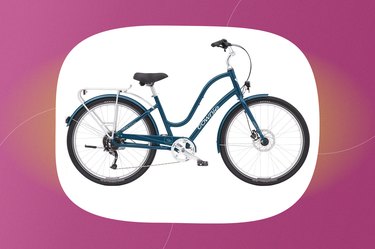 For those looking to cruise upright around town, this Public bike is a solid choice, according to cycling coach Garret Seacat, CSCS.
It has a low middle frame (also called a step-thru or step-through frame), making it easy to get on and off the bicycle. It's ideal for anyone who has challenges taking tall, wide steps.
4 Things to Consider When Buying a Bike Over 60
Anyone is at risk of falling off their bike, but in older age, a bike crash can be especially risky. That's why Harcoff recommends a lightweight frame. Should you hit an unexpected bump in the road, a lightweight bike is easier to lift off your body.
All falls aside, light bikes are just easier to move around and work on, too.
Although everyone has different fitness and mobility levels, some adults may prefer a step-through frame (like the Trek bike above).
The middle portion of these bikes dips low, making it much easier to step over the frame and onto the bicycle, he says.
Just like your clothes, you want to find a bike that's the right size for your body, Schultz says. Road bikes vary in size according to height, from XS to XL. But considering each company sizes a little differently, make sure to read the size chart before you buy.
Seat size is crucial for older adults looking to buy a new bike, according to Schultz. In fact, buying a bike with an incorrect seat size is one of the most common issues he sees.
The last thing you want is a seat that's too narrow. These can be uncomfortable on your lower body, especially if you like to go on longer rides. The best bicycles for seniors have a padded, wider seat.
Before you buy a bike, do a little extra reading on the product description to find a wider, more comfortable seat. Although many websites won't provide actual dimensions for bike seats, you can find a bicycle that's seat is labeled as being wider.
And, if all else fails, you can buy a separate, wider bike seat and swap it out.